Generics growth faces slowdown as fewer drugs are set to lose patents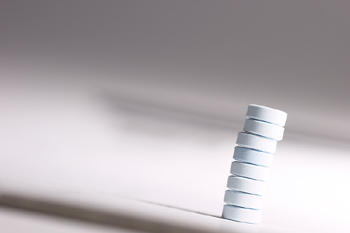 SAN DIEGO -- Generics are holding their own in the marketplace and increasingly gaining traction over branded pharmaceuticals, despite signs showing an imminent slowdown in growth as fewer drugs come off patent.
The most recent IMS Health figures show that generic drugs captured 51.5 percent of total prescriptions, 56 percent of new prescriptions and 12 percent of dollar sales for the first six months of 2004.
"Generics are a big factor in the marketplace," Doug Long, vice president of industry relations for IMS Health, told attendees at the National Association of Chain Drug Stores Pharmacy & Technology Conference here Aug. 31.
About 40 generic drug makers, comprising nearly one-quarter of the total number of pharmacy product exhibitors, attended the conference.
During a presentation on trends, issues and forecasts for the pharmaceutical industry in 2004 and beyond, Long said that when a generic drug hits the market today, it captures 70 percent of new prescriptions within four weeks. At times, that number reaches as high as 80 percent, but can drop as low as 40 percent. "What used to take months now takes weeks," said Long, who added that when possible, Pharmacists dispense a generic rug over a branded drug 90 percent of the time.
He warned, however, that the rate of gain for generics will not be as great as it's been in the past, particularly in the next couple [of] years when there are not as many products coming off patent."
So why are generics so strong now? According to Long, there are several factors. The first is demographics, or the aging population. Also, more than 11 blockbuster drugs--those bringing in sales of more than $2 billion annually--have gone off patent since 2001.
There's also been an innovation drought by branded-drug makers. Finally, rising copays and the fiery political and economic climate all contribute to generics sales growth.
Long also touched on one current hot spot in the industry: the area of biogenerics. "You have the European Union legislation being amended," Long said, "with the U.S. Food and Drug Administration now willing to study the issue."
Biogenerics currently are available in Eastern Europe, India and even Mexico The roadblock in the United States is that currently there is no regulatory pathway for the approval of biotech generic drugs here. The Hatch-Waxman Act, which more than 20 years ago created the framework for more timely entry of generic drugs into the U.S. market, pertains only to drugs approved by the FDA's Center for Drug Evaluation and Research. The first two biotech drugs that will face generics competition, insulin and growth hormones, were approved as biologics under the Food, Drug and Cosmetic Act.
The lack of clear legislation, complex manufacturing processes, questions over bioequivalence, multiple patents and the introduction of second-generation branded products all remain hurdles to overcome before biotech generics hit the market. Long said he anticipates that will be several years down the road.
The countdown clock on biogenerics should start ticking when regulatory guidelines are put in place. "[When] those guidelines are then challenged and generic biotech drug makers have to go through the court system, it. could probably take three to five years, Long said. "Generic biotech drugs are on the horizon, but not in the near term."
COPYRIGHT 2004 Reproduced with permission of the copyright holder. Further reproduction or distribution is prohibited without permission.
COPYRIGHT 2004 Gale Group